---
Welcome to Châteauneuf-en-Auxois (21, Côte d´Or)
in Bourgogne !
---
Come and stay in "Our House of Yesteryear", a beautiful restored medieval-style stone house, in the heart of one of the most beautiful villages in France.

Standing on its rocky outcrop, the fortified village of Châteauneuf-en-Auxois still seems to watch the road from Dijon to Autun. From the Burgundy Canal, along the greenway, its silhouette reveals one of the most beautiful views of the region. An emblematic place where contemporary art and medieval events come together.

Châteauneuf-en-Auxois is an unforgettable stopover during your stay in the Pays de l'Auxois!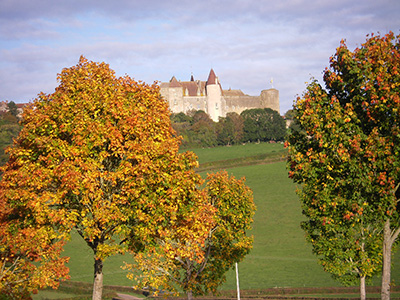 A little history…
---
The history of the town is closely linked to that of its fortress. Châteauneuf-en-Auxois appears around the 12th century when the foundations of the castle were built.

Dominating the Burgundy Canal, the fortress of Châteauneuf-en-Auxois is one of the last vestiges of Burgundian military architecture of the 14th century.

Châteauneuf-en-Auxois was at the end of the Middle Ages a prosperous village with a commercial vocation, protected by its imposing fortress. From this period remain many houses decorated with pediments and staircase turrets.
For any further information, do not hesitate to contact us on 06 13 65 82 25 orby email.